What is a trunki, you may ask?  Here's a picture for you of my kids in the airport on our way from Hawaii to the UK, riding their trunkis:
They're suitcase with leashes so they can pull them along, or you can pull them!  They are also low enough to the low to the ground that they can just sit on them and push with their feet.  Anyway, there are two new ones out for the London Olympics, and since we are soon to be a family with 6 kids we figured we'd pick up one for Greer and new baby.  They are made by Melissa and Doug, but the British ones (There's also a Gruffalo one, based on a children's book that's really popular here.) are sold exclusively at John Lewis, a high-end department store here.  Check them out!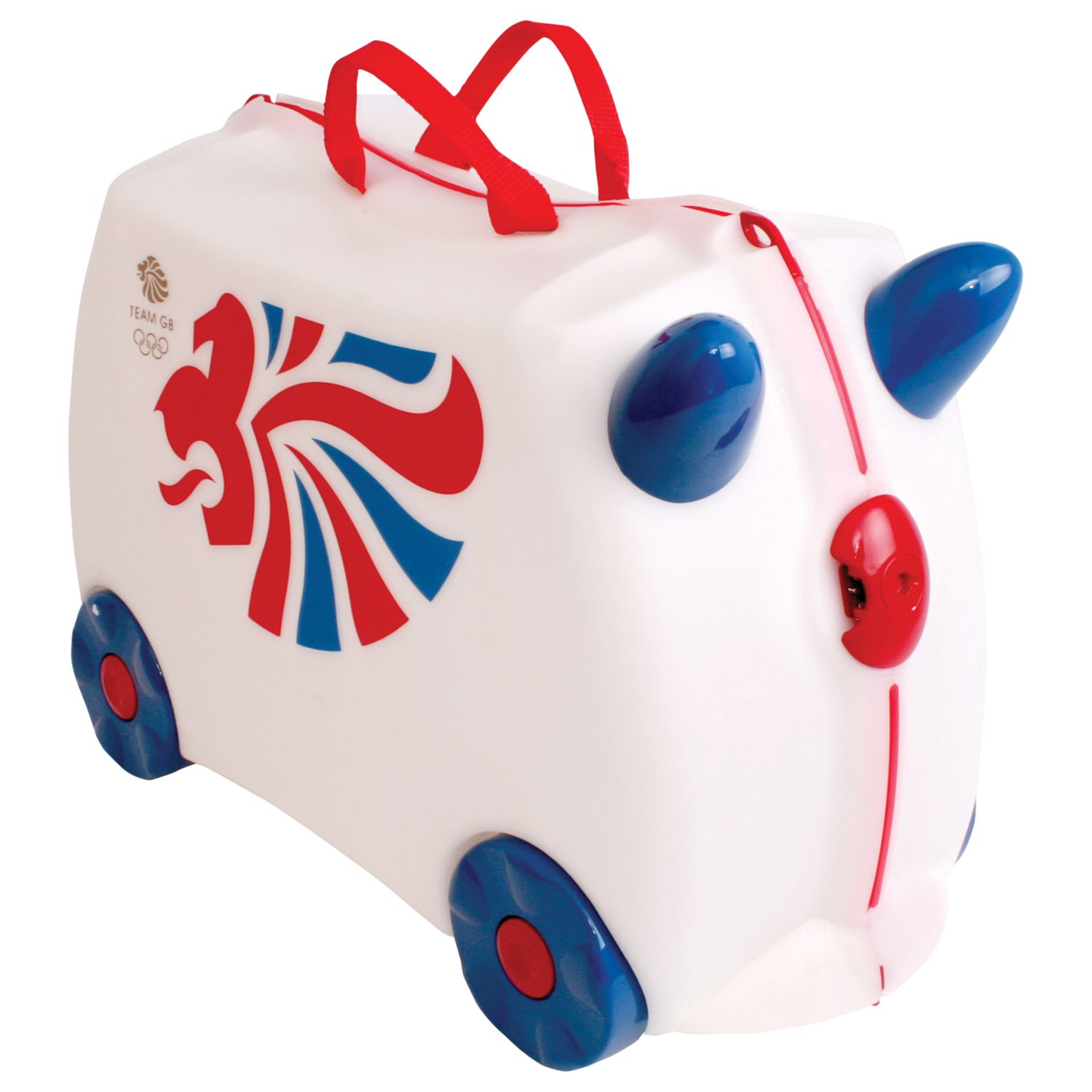 The other one is for the Paralympics.  Anyway, we went as a way to spend the day out as a family rather than sitting around staring at each other waiting for me to have a baby 🙂  Outdoor walking isn't really an option since it rained all day.  It was another mall we hadn't been to before – about 40 minutes west of us in Bristol.  It has an Apple store as well, and, the best part was that there was a TGI Fridays next door!!! Seriously, never been a big fan of the place but here in England it's like a beacon of hope!  Yummy food I don't have to make myself 🙂
We also shopped around a bit – grabbing up a few other Olympic insignia items as  the second book in the Call the Midwife series by Jennifer Worth that I recommended a few posts ago.  Overall it was a very pleasant day and delicious meal, and now we're just sitting around…waiting for me to have a baby 🙂  I think perhaps it might be tomorrow some time, since I am having contractions – albeit really far apart still.  I'm hopeful!
Another book I'm reading right now is called The Ghost Runner: The Tragedy of the Man They Couldn't Stop.  It's about a famous runner from England who had been in amateur boxing for a very short time, having received 17 pounds reimbursement for expenses and never any winnings or pay, which therefore qualified him as a "professional."  So when he tried to start running races and revealed this small compensation, he was banned for life from amateur racing in England.  His name was John Tarrant, and he started just jumping in to races without a number on, often winning them and setting world records along the way.  He was one of the greatest long distance runners the world has ever seen.  Anyway, I'm really enjoying the book and highly recommend it to any of you runners reading this blog 🙂  All for now.  Gotta get back to sitting around 🙂